One of my all-time favorite golfers is Phil Mickelson. He is exciting to watch because he rarely plays it safe. His second shot on the par-5, No. 13 hole from off pine straw and apparently stymied behind the trees during the final round of the 2010 Masters at Augusta National will forever be one of golf's greatest shots. Just thinking about it gives me chills.
But one of the curiosities about Mickelson that I love is that although he plays left-handed, he is actually right-handed. He wound up a lefty by mirroring his father's swing when his dad was teaching him to play as a child.  Here is a great clip of Phil's and his dad sharing their experience of learning golf and doing life together.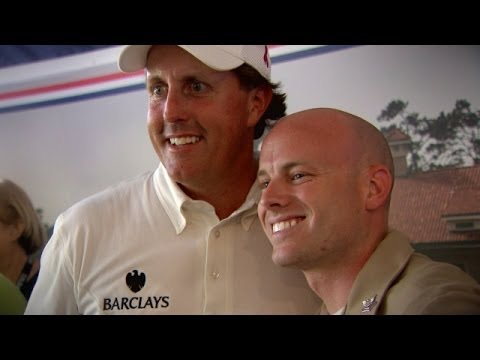 I believe the spiritual application couldn't be more obvious. There is an age-old debate about whether leaders are born or made. The truth is, everyone is designed to lead even if the only person you are called to lead is yourself. Leadership isn't incubated in a vacuum. Every developing leader is influenced in some way at an early stage by others. It shapes the person and the leader they become. This is why choosing your influencers is critically important. Do you see in those you imitate the traits of the person you want to become?
Ultimately our model for leadership is our Heavenly Father. Like young Mickelson learning a golf swing from spending quality time with his father, the best way to develop as a godly leader is to spend time with God and mirror Him as revealed in Scripture. Mickelson submitted to his father's instruction; likewise we should submit to our Heavenly Father's instruction.
Jesus is our example of both submission and mirroring God the Father. He came to do the Father's will on earth, even to the point of death. It was His joy to do so (Hebrews 12:2) and the irony is in Jesus' total submission to the Father, He became the ultimate leader.
If you want to have an influence on the people around you, take your instruction from Jesus and imitate Him as He imitated God the Father. There is no better instructor than the One who is perfect.