Golfers today don't fully understand how well they've got it.
Years ago, before driving ranges became full service ranges, golfers had to supply their own range balls and retrieve them. Needless to say, spraying balls all over could get quite costly. That's why golfers like Arnold Palmer and Ben Hogan used to have a caddy stand down range and shag balls like they were fielding pop flies. Ernest "Creamy" Carolan caddied for both at different times. He carried a baseball glove with him to the range and fielded balls. This "target" not only required Palmer and Hogan to become extremely precise with their ball striking, it enabled them to dial in club yardages. Their goal wasn't hitting fairways and greens, but hitting specific spots on each. Here is a video clip of Ben Hogan on the range at the 1967 Masters.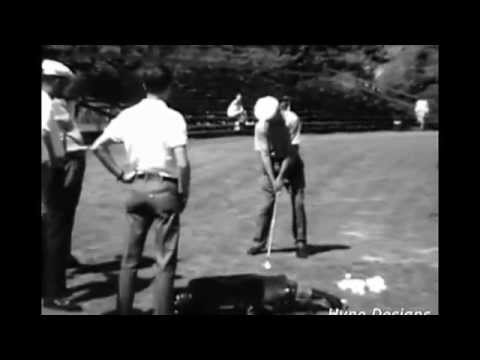 Most average golfers are content to land anywhere in the short grass and are excited to hit the green in regulation. Sure, they may be putting from 40 feet, but at least they aren't chopping out of the rough or blasting out of a bunker. Most never practice precision golf.
Professionals do.
Is your Christian life like that? Do you practice "Precision Christianity?" Precision Christianity starts by spending a lot of time in the Bible. The Bible is to life what a yardage book is to a golfer. It gives you a precise measurement of what the Christian life entails. The Bible and your life are inextricably linked. The only way to live a life that hits the mark for the glory of God is to constantly check His yardage book. Without it, at best you are simply hitting shots in the direction of the Christian life. There is no precision there.
Time to get honest and ask ourselves, "Am I living my life with such precision that I'm hitting the mark for which God wants me to shoot?" This means allowing the Bible to guide your concentration so that every "shot" you make with your life is landing in the right spot. You don't have a caddy down range, but to gauge how you're doing you can ask yourself:
How am I treating my friends and my spouse?
What kind of threads am I posting on Facebook and Twitter?
Do they build people up or tear them down?
How am I dealing with people in business?
How am I leading myself when no one is looking?
No, rule keeping doesn't mean you're a Christian, but an honest evaluation of how you're "performing" can reveal how closely you are living out a Spirit-filled life in accordance with the Bible's direction.
But that kind of Christian life only comes by practicing biblical precision.